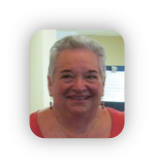 Shalom, welcome to Beth Israel, the Jewish Congregation of Sun City Center, located in the heart of our active over 55 community in South Hillsborough County.  We are members of URJ, the Union for Reformed Judaism, and serve the entire South Shore.  We are a small, haymish congregation, made up of active adults who share a love of life and Judaism.  Rabbi Carla Freedman leads our weekly Friday night services at 7:30 PM where members, whose backgrounds range from Orthodox to no previous affiliation, join in prayer, song and Torah.  Our Oneg Shabbat following services provides a warm setting for socializing with old friends and making new ones.  We also hold Shabbat morning services at   10 AM on the second and fourth Saturdays of the month.  These services are followed by a Kiddush and Torah study led by Rabbi Carla.
We have an active Men's Club and Sisterhood, which provide us with many programs including monthly meetings with interesting speakers, the Men's Club "Bagels & Discovery" and Sisterhood's Passover Celebration.  Together they construct and decorate the sukkah and sponsor an annual Chanukah party.  Our Program Directors plan educational and entertaining events to keep us busy all year round.  We are also involved in the Interfaith Social Action Council, an organization comprised of many of the local Houses of Worship.
If you are visiting the area or are thinking of moving here, please don't hesitate to come to services and find out why Beth Israel is the place to be on a Friday night.  It is a great opportunity to make those Jewish connections, find someone who went to the same high school as you, or lived in the same neighborhood as you did.  We promise you a friendly welcome and are looking forward to sharing your journey with you.  We are a congregation that cares about Jewish values, about Israel, about our community and environment and, most of all, about each other.
Please contact me with any questions you may have.  I look forward to greeting you in person in the near future.
May we go from strength to strength.
Rochelle Lafer, President