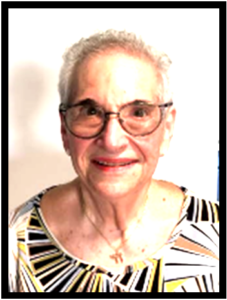 Words from our Temple President, Rochelle Lafer
December 2023
As I write this column, we are getting ready to gather with family and friends for the holiday of Thanksgiving. It is one of the holidays that all Americans enjoy each year. We all know the story of the Pilgrims and the Native Americans coming together and sharing
a meal to celebrate the survival of both groups learning to live side-by-side.
Like the Pilgrims, most of us arrived in Sun City Center from a variety of places across our great country. We came looking for a good place to retire and enjoy the time left in our lives in a warm and friendly environment. Somehow or other we all managed to find our way to our little Congregation on East Del Webb Boulevard. Here we found a group of warm and supportive people who shared a common bond. We have also been blessed with a wonderful and incredibly bright spiritual leader who helps to make our Temple
such an amazing place to be.
For the past four years, it has been my privilege to serve as President of this unique Congregation. A lot has changed in our Temple over the last four years. Due to the arrival of the Covid-19 pandemic, we were forced to find a way to stay in touch with our membership while the doors to our building were closed. With the help of a remarkable group of people, we joined the age of live streaming. Since then, we have been able to remain connected with the entire Temple community. While we still use the computer to
remain connected for many events, we are back to services in the Temple and enjoying the wonderful Onegs following our Shabbat services on Friday nights. We recently had our first Friday night dinner before services in several years. It was well attended and all of us
enjoyed the chance to have a meal together before services. Hopefully, we will continue to do that a little more often!
As I get ready to pass my gavel on to Ricki Bauman, I want to thank you all for your support and friendship. Please join us at our Annual Meeting at the Temple on Sunday, December 17th at 1:00 pm as we celebrate the past year at Beth Israel and move on to the next adventure. If you will not be joining us at the Annual Meeting, please make
sure to send in your proxy or get it to one of the members of the Board of Directors prior to the meeting.
May we go from strength to strength,
Rochelle