Shalom and Welcome!
Beth Israel Sisterhood, an arm of Beth Israel, The Jewish Congregation of Sun City Center, welcomes Jewish women in the congregation and community at large.
Sisterhood's purpose is to strengthen Jewish consciousness by cultivating social interaction, encouraging social services, offering religious education, supporting activities that benefit the Congregation and promoting closer fellowship among its members.
Why Join us?
Sisterhood welcomes your wisdom, your friendship, and your love for Judaism. Use your time with Sisterhood to delight in your Jewish heritage, connect with women you already know and make new friends. Annual dues $18.00 for members of Beth Israel, $54.00 for non-members.
Sisterhood Activities.
Sisterhood women support the Beth Israel Congregation and each other with a variety of spiritual, education and social activities:
      Ø Scheduled monthly meetings and events
(Click here for Calendar)
     Ø Coordination of weekly Oneg Shabbat after Friday evening services
     Ø Sponsorship of annual Sisterhood Shabbat services
     Ø Operation of the Judaica Shop located in the Synagogue lobby
     Ø Contributions to Beth Israel operational expenses
     Ø Hand-on help and fund to augment special Temple projects
     Ø Bimah flowers for holidays
Ø Oversee Beth Israel's library (Click here for Library)
Sisterhood Board of Directors 2019-2020
President Barbara Grossman
V.P. Membership Nina Malinak

V.P. Programming Sharon Privitera

Recording Secretary  Marlene Spiegel

Corresponding Secretary Nancy Binder

Treasurer Diane Posner

Library Barbara Nova
Member-at-Large Sandra Hurwitz

Publicity Marion Sharkey
Onegs Lyn Safian
Past President Rochelle Lafer

Judaica Shop Joy Rosen, Addie Unterlack

Current News
 Barbara Grossman, President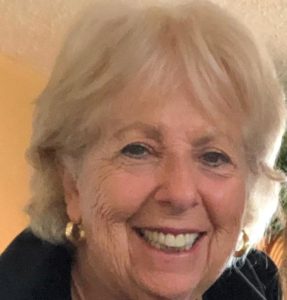 Sisterhood@jcscc.org
June/July 2020

Plans have been made for Sisterhood meetings in the fall. As a result of the pandemic, we may have to schedule some of our early programs with Zoom. It's a "wait and see" for all of us. If you have never tried Zoom, I encourage you to call me @ (813) 938-3531 for help logging onto Zoom when you receive the invitation from Nina Malinak or Robin Kitzmiller. You can do it with a tablet, laptop, or cell phone. Once you initially log on, the connection to our members will be a positive time in your day. There is no need to feel isolated. It is important to stay connected, and your job, please, is to read your email at least once a day!
Our first Sisterhood program for the new year will be held on Tuesday, October 6th, and it is entitled, "Sleep and Stress Management in Difficult Times." Our guest speaker, Katheryn Hansen, is the Executive Director of the International Society of Behavioral Sleep Medicine and has presented programs throughout the country. Please join us for this program!
Our Program Committee held a "Coffee (or tea) Chat" in mid-May. The topic discussed was, "What famous Jewish person makes you proud to be Jewish or most influenced your life?" Because of the positive feedback, we will schedule these chats again. Please watch your email.
We know things will be different, but we are positive that our Sisterhood will prevail and continue to offer opportunities for all of our members.
Together We Serve,
Barbara