Shalom and Welcome!!
Beth Israel Sisterhood, an arm of Beth Israel, The Jewish Congregation of Sun City Center, welcomes Jewish women in the congregation and community at large.
Sisterhood's purpose is to strengthen Jewish consciousness by cultivating social interaction, encouraging social services, offering religious education, supporting activities that benefit the Congregation and promoting closer fellowship among its members.
Why Join us?
Sisterhood welcomes your wisdom, your friendship, and your love for Judaism. Use your time with Sisterhood to delight in your Jewish heritage, connect with women you already know and make new friends. Annual dues $18.00 for members of Beth Israel, $54.00 for non-members.
Sisterhood Activities.
Sisterhood women support the Beth Israel Congregation and each other with a variety of spiritual, education and social activities:
      Ø Scheduled monthly meetings and events
(Click here for Calendar)
     Ø Coordination of weekly Oneg Shabbat after Friday evening services
     Ø Sponsorship of annual Sisterhood Shabbat services
     Ø Operation of the Judaica Shop located in the Synagogue lobby
     Ø Contributions to Beth Israel operational expenses
     Ø Hand-on help and fund to augment special Temple projects
     Ø Bimah flowers for holidays
Ø Oversee Beth Israel's library (Click here for Library)
Sisterhood Board of Directors 2020-2021
Co-President Barbara Grossman
                                           Co-President Donna Weiner
V.P. Membership Diane Posner

V.P. Programming Judy Rodman

Recording Secretary  Marlene Spiegel

Corresponding Secretary Bonnie Sobel

Treasurer Nina Malinak

Library Barbara Nova
Publicity Deb Perian

Onegs Lyn Safian
Past President Rochelle Lafer

Judaica Shop Joy Rosen, Addie Unterlack

Current News
 Barbara Grossman, Co-President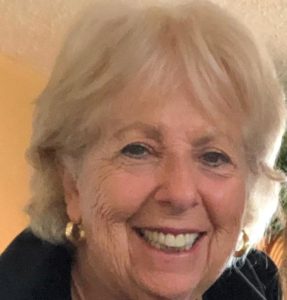 Sisterhood@jcscc.org
October 2022
Our first Sisterhood "In-Person" meeting in September was an outstanding program presented by Linda Mumford. About 100 people sat in the Sanctuary to learn about the "History of the Dog—How the Wolf Became Man's Best Friend".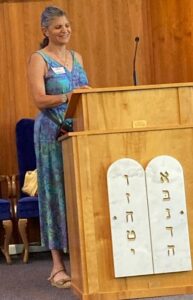 Co-chairs for the event were BonnieSobel and Ronni Neckes. In case you missed theprogram, Nina Malinak sent a link to the recording.
Beth Israel's Sisterhood season has begun. Please join us for interesting programs and the opportunity to get to know our wonderful Sisterhood members. It's a great way to meet new friends.
Men's Club will set up the Sukkah on Friday, October 7th, and on Sunday, October9th at 9:30 a.m. Sisterhood members will decorate it. Ladies, we need your help! This is a fun time to volunteer. Call Barb or Donna if you want to help.
The "Paid-Up" Membership luncheon is on Tuesday, November 1st at noon in the Social Hall. Join us as we listen to former history teacher Jan Bassett talk about the suffrage movement and women's fight to get the vote in America. Jan's entertaining talks about American history feature her wearing period costumes and encouraging audience participation. Co-Chairs for this event are Marlene Hollander and Lyn Safian. Watch for the email to make a reservation. Sisterhood dues must be paid in order to attend. Temple members' dues are $18/year and non-Temple members' dues are $54/year. If you have not paid your dues, please send your check to: Nina Malinak 2424 Kensington Greens Drive Sun City Center, FL, 33573Save the date!
Monday, January 30th, Sisterhood has planned a day trip to theImagine Museum in St. Pete. It's an interesting collection of exhibits we promise you will enjoy. We will carpool and have lunch in St. Pete.
Stay safe!
Barb & Donna