Shalom and Welcome!!
Beth Israel Sisterhood, an arm of Beth Israel, The Jewish Congregation of Sun City Center, welcomes Jewish women in the congregation and community at large.
Sisterhood's purpose is to strengthen Jewish consciousness by cultivating social interaction, encouraging social services, offering religious education, supporting activities that benefit the Congregation and promoting closer fellowship among its members.
Why Join us?
Sisterhood welcomes your wisdom, your friendship, and your love for Judaism. Use your time with Sisterhood to delight in your Jewish heritage, connect with women you already know and make new friends. Annual dues $18.00 for members of Beth Israel, $54.00 for non-members.
Sisterhood Activities.
Sisterhood women support the Beth Israel Congregation and each other with a variety of spiritual, education and social activities:
      Ø Scheduled monthly meetings and events
(Click here for Calendar)
     Ø Coordination of weekly Oneg Shabbat after Friday evening services
     Ø Sponsorship of annual Sisterhood Shabbat services
     Ø Operation of the Judaica Shop located in the Synagogue lobby
     Ø Contributions to Beth Israel operational expenses
     Ø Hand-on help and fund to augment special Temple projects
     Ø Bimah flowers for holidays
Ø Oversee Beth Israel's library (Click here for Library)
Sisterhood Board of Directors 2020-2021
President Barbara Grossman
V.P. Membership Diane Posner

V.P. Programming Ros Ross, Donna Weiner

Recording Secretary  Marlene Spiegel

Corresponding Secretary Bonnie Sobel

Treasurer Nina Malinak

Library Barbara Nova
Member-at-Large Sandra Hurwitz

Publicity Deb Perian

Onegs Lyn Safian
Past President Rochelle Lafer

Judaica Shop Joy Rosen, Addie Unterlack

Current News
 Barbara Grossman, President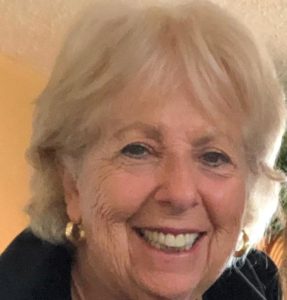 Sisterhood@jcscc.org
April 2021

Friendship! What does it mean? How does it affect our daily life? I found out how important friends are when we moved, a long time ago, to Toledo and away from family in Miami. We always belonged to a Temple, and we joined The Temple (as it was known), Shomer Emuniem. Friends became our family! Friends helped celebrate holidays, helped with our children, helped when we had medical issues, and helped us not to feel alone. Last week, friends from New Jersey
(1964) took me for dinner (outside, of course). We talked about why we are happy. It is because of memories of things we did when our children were young and were members of Temple Sinai in Cinnaminson, NJ. Temple membership always provided our family with activities and opportunities to supplement our lives because our family did not live nearby.
The Temple has been a family to me and many others, especially during this year of isolation. Each time we meet on Zoom, comments from members are always positive affirmations of activities provided. Yet, when I make Board phone calls to check on our Temple members, people tell me they are bored. We try to encourage every person on our list to join us for any and all programs. Men's Club, Sisterhood, and Temple programs are open to all members and even guests. We have had a myriad of programs to choose from since last March.
Dr. Rick Weiner will present, "Understanding Personality Disorders" on Tuesday, April 6that 1:00 pm. Everyone is invited to join us for this interesting look at personalities.
The Sisterhood program for Tuesday, May 4th will be a presentation from Jeanne Shanin about Reiki. Watch for the fliers and join us.Memories are wonderful. Enjoy and reflect on your memories.
Barbara Grossman