Shalom and Welcome!!
Beth Israel Sisterhood, an arm of Beth Israel, The Jewish Congregation of Sun City Center, welcomes Jewish women in the congregation and community at large.
Sisterhood's purpose is to strengthen Jewish consciousness by cultivating social interaction, encouraging social services, offering religious education, supporting activities that benefit the Congregation and promoting closer fellowship among its members.
Why Join us?
Sisterhood welcomes your wisdom, your friendship, and your love for Judaism. Use your time with Sisterhood to delight in your Jewish heritage, connect with women you already know and make new friends. Annual dues $18.00 for members of Beth Israel, $54.00 for non-members.
Sisterhood Activities.
Sisterhood women support the Beth Israel Congregation and each other with a variety of spiritual, education and social activities:
      Ø Scheduled monthly meetings and events
(Click here for Calendar)
     Ø Coordination of weekly Oneg Shabbat after Friday evening services
     Ø Sponsorship of annual Sisterhood Shabbat services
     Ø Operation of the Judaica Shop located in the Synagogue lobby
     Ø Contributions to Beth Israel operational expenses
     Ø Hand-on help and fund to augment special Temple projects
     Ø Bimah flowers for holidays
Ø Oversee Beth Israel's library (Click here for Library)
Sisterhood Board of Directors 2020-2021
President Barbara Grossman
V.P. Membership Diane Posner

V.P. Programming Ros Ross, Donna Weiner

Recording Secretary  Marlene Spiegel

Corresponding Secretary Bonnie Sobel

Treasurer Nina Malinak

Library Barbara Nova
Member-at-Large Sandra Hurwitz

Publicity Deb Perian

Onegs Lyn Safian
Past President Rochelle Lafer

Judaica Shop Joy Rosen, Addie Unterlack

Current News
 Barbara Grossman, President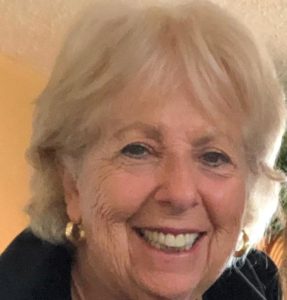 Sisterhood@jcscc.org
January 2021

Sunday, December 13th at 2:00 PM our Hanukkah party, sponsored by Sisterhood and
Men's Club, was on Zoom. A crowd of eighty plus participated with us, led by Rabbi Carla Freedman, Cantor Glenn Groper, Dalia Behr, Judy Rodman, and Paul and Marlene Spiegal. We all had a grand time, despite the fact that we didn't have latkes at Temple. Thanks to Rochelle for planning this event and Nina for making it possible on Zoom. Next year we hope to be back in Temple.
Book Club met Monday, December 21st on Zoom with Sejal Badani, author of The Storyteller's
Secret. We learned the back story of how this book was written, along with interesting details
about the story and the author. Sisterhood members and guests were engaged by our
conversations with Sejal Badani.
On Tuesday, January 5st at 1:00 PM, the Program Committee is proud to be hosting the first Sisterhood meeting of the New Year. The guest presenter will be our very own Ricki Bauman. The topic for this meeting is "A History of the New York City Subway System: 1868-2010." We know this topic will resonate with New Yorkers and visitors to NYC. As Ricki leads us down memory lane, this will be a visual feast featuring scenes of the subway, the subway cars, the stations, the tracks, the signal system, and other surprises. Ricki's 31 year career with the NYC Transit Authority will create a wonderful opportunity to learn all about what so many of us took for granted during our lives. Please mark your calendar. You will not want to miss this presentation.
Lauren Bacall said, "Imagination is the highest kite one can fly." So, I'm challenging you to imagine something you can do to help someone in your life and actually do it!
Please stay safe, and call me with any questions about Sisterhood.
Barbara Grossman