Shalom and Welcome!!
Beth Israel Sisterhood, an arm of Beth Israel, The Jewish Congregation of Sun City Center, welcomes Jewish women in the congregation and community at large.
Sisterhood's purpose is to strengthen Jewish consciousness by cultivating social interaction, encouraging social services, offering religious education, supporting activities that benefit the Congregation and promoting closer fellowship among its members.
Why Join us?
Sisterhood welcomes your wisdom, your friendship, and your love for Judaism. Use your time with Sisterhood to delight in your Jewish heritage, connect with women you already know and make new friends. Annual dues $18.00 for members of Beth Israel, $54.00 for non-members.
Sisterhood Activities.
Sisterhood women support the Beth Israel Congregation and each other with a variety of spiritual, education and social activities:
      Ø Scheduled monthly meetings and events
(Click here for Calendar)
     Ø Coordination of weekly Oneg Shabbat after Friday evening services
     Ø Sponsorship of annual Sisterhood Shabbat services
     Ø Operation of the Judaica Shop located in the Synagogue lobby
     Ø Contributions to Beth Israel operational expenses
     Ø Hand-on help and fund to augment special Temple projects
     Ø Bimah flowers for holidays
Ø Oversee Beth Israel's library (Click here for Library)
Sisterhood Board of Directors 2023-2024
                             President Donna Weiner
V.P. Membership Ellen Block

V.P. Programming Helene Bassin

Recording Secretary  Debbie Boyarsky

Corresponding Secretary Bonnie Sobel

Treasurer Nina Malinak

Past President  Barbara Grossman
Library Barbara Nova
Publicity Deb Perian

Onegs Lyn Safian
Past President Rochelle Lafer

Judaica Shop Joy Rosen, Addie Unterlack

Current News
Donna Weiner President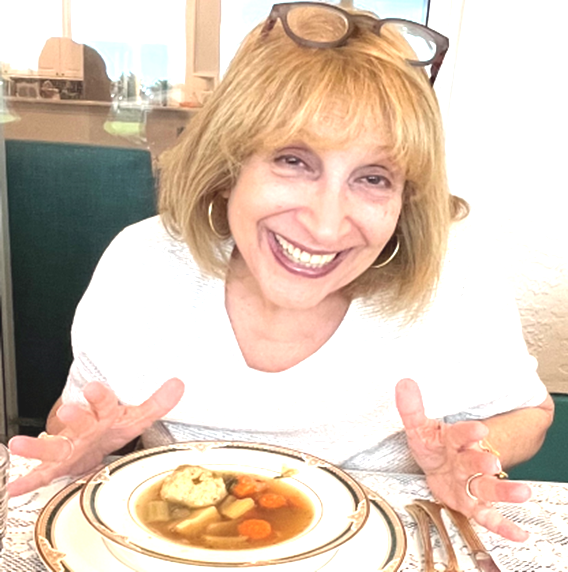 Sisterhood@jcscc.org December 2023
Hello, all,
Over 60 Sisterhood members attended our annual Paid-Up Members' Luncheon on November 7th. We enjoyed our Mediterranean buffet, but mostly we enjoyed each other's company. So many of us are either busy with activities or have mobility issues, so visiting with each other in person is a real treat.
Our presenter, Dr. Zach Peterson, explained how exercise and movement can enhance our quality of life.
To me, December has always meant, "Time for Hanukkah!" On December 10th, Sisterhood will be celebrating with Men's Club. Come and join us for a fun-filled afternoon of acting like we were children again! Sisterhood and Men's Club are planning entertaining activities, and, of course, we will partake in latkes with sour cream and/or applesauce, and jelly donuts. Expect a surprise visitor or two (I'm not divulging any secrets, but there is a rumor floating about that a fan favorite will be in town…).
As you know, Temple President Rochelle Lafer's term is coming to an end. For the past four years, Rochelle has lovingly led this congregation through the best of times and the worst of times. The President of the congregation works side by side with the Rabbi and the Board of Directors to sustain its members in every way. Rochelle can be seen every Friday night in the back of the Sanctuary welcoming members and in the kitchen preparing for onegs and cleaning after them. She donates time, effort, and support to Beth Israel, and I will miss her at our helm. Thankfully, Rochelle has agreed to stay on the Board as Ritual Co-chair. We love you, Rochelle, and we thank you for all that you
have brought as President to Beth Israel!
Sisterhood welcomes our new Beth Israel President, Ricki Bauman! We look forward to closely working with her. Ricki brings lots of energy to this position (she's like the Energizer Bunny)!
Stay tuned,
 Donna