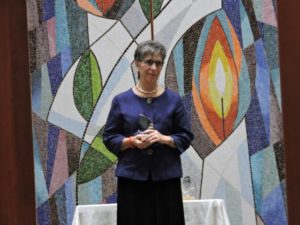 Joanne has been dedicated to Beth Israel Jewish Congregation of Sun City Center for eleven years and currently serves as president, a position she has held since 2013. Previously, Joanne served as vice president from 2012-2013, recording secretary from 2010-2011 and ritual director from 2006-2010. In May 2015, she had her Bnot Torah with twelve other women. Since 2009, Joanne has created and organized the annual Community Yom Hashoa service in Sun City Center, including an interfaith choir. She also represents Beth Israel in an ongoing faith community project of bringing awareness of hunger to the community. The first event, a cabaret show, raised $11,000 and brought in 1,000 pounds of food for the local food pantries. Joanne and her husband have coordinated bi-annual community breakfasts which involve 130 volunteers cooking and serving breakfast to as many as 1,400 residents and their guests.
From 2005-2015, Joanne volunteered for the Straz Theatre in the retail department. Since 2006, Joanne has been an advisor to Simon's Fund, a nonprofit dedicated to raising awareness about the conditions that lead to sudden cardiac arrest and death in young athletes and children. The fund is named in memory of Joanne's three-month-old grandson Simon who died during a nap. To date, the organization has given free heart screenings to over 13,000 individuals and found about 100 children who had undetected heart conditions. Simon's Fund has also created a national registry that gathers data for qualified researchers.
Joanne was a speech-language pathologist for 43 years, primarily working in private practice and public schools. For 30 years she was involved in many organizations in the Cincinnati community. At Temple Beth Shalom, she was the religious school chair for four years, and sat on the board of directors for eight years. Joanne was president of the Council for Soviet Jewry from 1980-1984 and traveled to the Soviet Union in 1983 to meet and bring necessities to the refusniks. She worked on many committees at the Jewish Federation of Cincinnati and served as the chair of the Israel Program committee. In that capacity, she chaired the first community Yom Hazikaron event and traveled to Israel to hire the Shaliach for the community.
In 1989, Joanne chaired the 58th General Assembly for the Council of Jewish Federations where over 2,500 people attended. She also served on the Federation board for several years. Joanne was secretary for the OHIO CLUB from 2007-2013. Since 2006, she has served on the volunteer security patrol and is assistant team captain. She has also cooked for the all-volunteer emergency squad since 2011. Joanne and her husband Sam have been married for over 50 years. They have two children, four grandchildren, and one grandson of blessed memory.