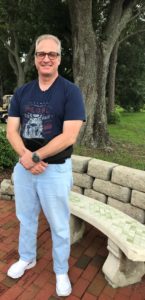 Jonathan Gamson has only been a member of Beth Israel for one year and he already has earned the koved of special volunteer because of his never ending "stepping in". Whether it be helping the facilities and maintenance committee with chores about the building, or cleaning up after an oneg, or providing his truck to transport hurricane debris or paintings, or helping the ritual committee distribute and gather books on Shabbat or holidays Jonathan (aka Jon) is always front and center.
Jon was raised in New York City where he first learned the reward of volunteering. His parents showed by example how to help when help was needed. He stepped up to
volunteer for his former congregations; battered women's shelter, rehabbing homes
for the elderly, to name a few. Jon moved to Orlando in 1978 and then joined the Navy and served our country for 21 years; again, giving back.
Jon decided to move to SCC in 2017 to be closer to his mother who lives in Aston Gardens. He came upon Beth Israel and found a home of welcoming people who helped him make the transition. In Jon's words: "I truly enjoy the time I get to share with my new extended family and appreciate being a part of the Beth Israel experience. This congregation of wonderful people has given more to me then I will ever be able to give back."
Beth Israel can't say thank you enough to Jon for being a special volunteer.
Congratulations.  Special Volunteer Jonathan Gamson