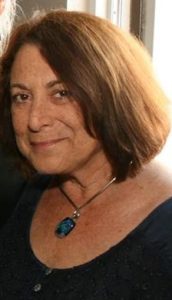 Robin Kitzmiller is our special volunteer this month. She and her husband Dick came to Florida in 1985 from West Virginia and settled in Valrico for a short time before moving to Apollo Beach. She and Dick moved to Sun City Center about 10 years ago.
Robin was a special education teacher for 35 years and the technology guru for Hillsborough County Adult Education. It is in her nature to fix things whether it be people with special needs, computers, or the birds and other wildlife that she helped save in different rescue shelters and wildlife sanctuaries. In her spare time, she and Dick travel the country in their motor home with their dog and cat.
Robin joined Beth Israel to be with her dad, Lou Einhorn. She had promised her mother, who loved being at the temple, that she would take care of Lou and attend services. So, you can find Robin at Shabbat services every Friday night unless she and Dick are off on a motorhome trip. If Robin joins an organization, she needs to give back by doing something and several years after she joined Beth Israel, she was editing the Shalom News. Today, she continues to help out with the Shalom News by helping with the proof reading. But that is not all; she has worked diligently with Nina Malinak in creating our new website; she helps edit our calendar with Nina; and will make any kind of flyers we may need. Robin doesn't like to attend meetings but that doesn't stop her from being a special volunteer who knows the importance of giving back.
Thank you Robin for giving back to Beth Israel. Your gifts have made an impact on all of our lives.
Congratulations.  Special Volunteer Jonathan Gamson