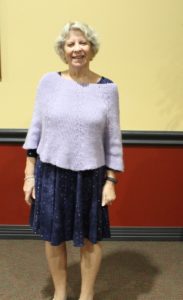 Marlene Spiegal exudes kindness, generosity and commitment in all that she does.  She has been a proud and happy member of Beth Israel of Sun City Center since 2010.  Marlene never backs down from a task asked of her and she performs that task with grace.  Marlene's quiet leadership embraces all who work with her.  Over the last four years she has taken a number of leadership positions including co-chair of the Membership Committee, recording secretary of Sisterhood, a member of the Board of Directors and she also is an active participant on their fundraising committee.
With a passion for singing and community involvement, Marlene has participated in the choir at all previous temple affiliations, and currently is a choir member of the Yom Hashoah Choir of Sun City Center.
Marlene has not only volunteered for Jewish causes and organizations; she has been a Jewish educator for over 30 years teaching religious and Hebrew school and Jewish curriculum at Jewish day schools.  She has also held directorship positions at JCC's outside of Florida within their day camp and early learning education programs.  Locally Marlene is a former Lead Teacher at the Tampa JCC Preschool North.
Marlene and her husband Paul have two children, Seth and Sheri, and four grandchildren.